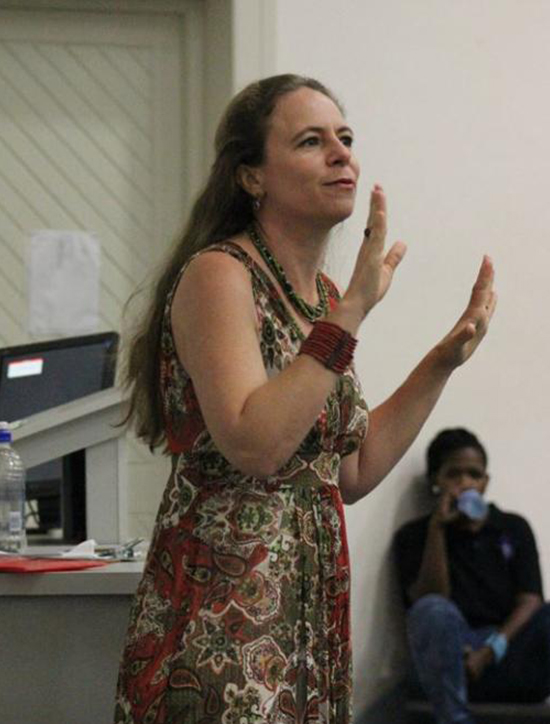 Alexandra Sutherland
Tshisimani Centre for Activist Education; Drama Studies Department, Rhodes University
Cape Town, South Africa
Grahamstown, South Africa
Phone: 
Email: 
Website: www.tshisimani.org.za; www.ru.ac.za/drama
---
Social Media & Blogs
Blog: 
Twitter: Alex Sutherland @createactivism
Facebook: Alex Sutherland (Cape Town South Africa)
LinkedIn:
YouTube: 
Other: 
Bio:
Coordinator of creativity in activist Education, Tshisimani Centre for Activist Education, Cape Town, South Africa and Senior Research Associate, Drama Studies Department, Rhodes University, Grahamstown, South Africa
Alex Sutherland worked as a professor in Applied Theatre for many years at Rhodes University, South Africa, where she specialised in the uses of improvised theatre in criminal justice settings and with many communities who wished to play with creativity as a means of self-determination. In June 2017 she left full time academia to work more fully in social justice settings (regretfully accepting that the academy is not the where the world is going to change), and she now co-ordinates the creative and performing arts in activist education and organising at the Tshisimani Centre in Cape Town, South Africa. Her work involves working with a variety of social justice movements to help incorporate creative modes of activism and to infuse creative methods in political education. She continues to publish and supervise 'academic' research, as a way to disseminate how the seriousness of play can truly contribute to changing the world!
Selected articles:
Sutherland, A (2017). Method and Madness: de/colonising scholarship and theatre research with participants labelled mad. Research in Drama Education: The Journal of Applied Theatre and Performance.
Sutherland, A. (2015). Disturbing masculinity: Gender, performance and 'violent' men. South African Theatre Journal. Vol 28 (1): 68-77.
Sutherland, A (2014). Narrative,/therapy and an apartheid story: audiences, ethical witnessing and power. In H. Barnes and M-H Coetzee (Eds). Applied Drama/Theatre as social intervention in conflict and post-conflict contexts. Cambridge press.
Sutherland, A. (2013). Dramatic spaces in patriarchal contexts: Constructions and disruptions of gender in theatre interventions about HIV. In H. Barnes, (Ed) Applied Drama and Theatre as an Interdisciplinary Field in the context of HIV/AIDS in Africa. Amsterdam, Rodopi: 178-186
Sutherland, A (2013). Now we are real women: Playing with gender in a male prison theatre programme in South Africa. Research in Drama Education: The journal of applied theatre and performance. Vol 18 (2): 120-132
Sutherland, A. (2013). The role of theatre and embodied knowledge in addressing race in South African higher education. Studies in Higher Education. Vol 38 (5):728-740.