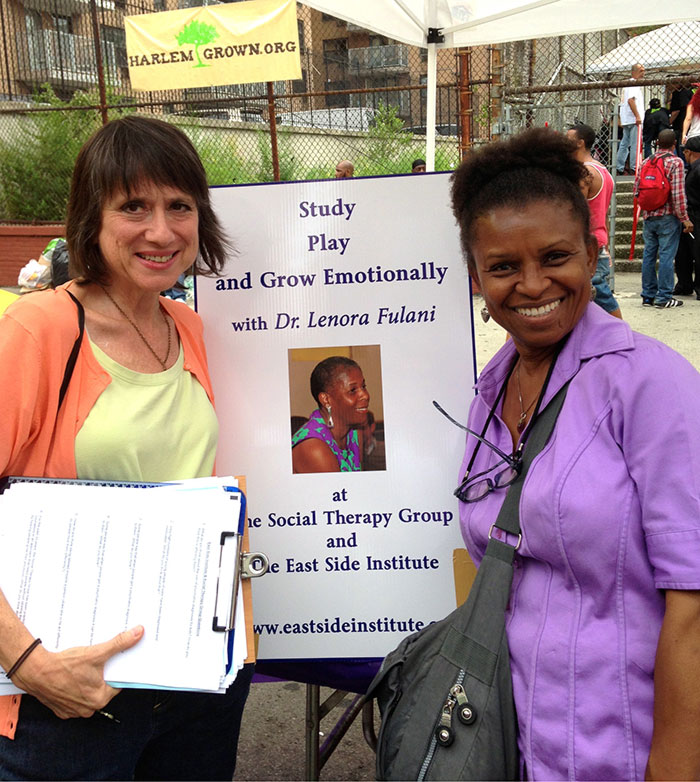 Want to Make a Difference?
Invest in Human Development
To make a tax-deductible contribution of $50, $100, $250, $500, $1,000 or more:
Donate on-line with our partner Network for Good (note: Network for Good will appear on your 

credit card statement*)

Mail a check payable to the East Side Institute,  104-106 S. Oxford Street, Brooklyn, NY 11217.
Call Mary Fridley, Director of Development, at 212.941.8906.
If you are employed by a company with a matching gift program, you may be able to double or triple your gift dollars to the East Side Institute. Contact your company's personnel or community relations office and they will provide a form for you to complete and send to the East Side Institute.
Help Build a New Psychology!
Volunteer with the East Side Institute
Founded in the 1970s, the East Side Institute, like many non-profit organizations, has largely been powered by volunteers – many of them trained professionals – working with us in a variety of capacities. This support has given us the independence to be as creative, innovative and cutting-edge as we would like to be!
To this day, 95% of our faculty and staff are volunteers who play a key role in building our organization and the programs we provide to the community. We are always looking for new volunteers and interns to work with us – and have a dynamic internship and volunteer program that can be tailored to your individual or academic needs, your schedule and skill set.
Help us maintain our innovative, cutting edge programs by becoming part of our volunteer community.
Opportunities include:
Production staff for Institute workshops and events
Database entry and management
Marketing and design
Other (If you have other talents you'd like to offer, please let us know!)
Volunteers are encouraged to attend various Institute workshops and classes.
Internships are available for college credit – speak to the Institute and your school to
find out if you are eligible.
If you are interested in volunteering or interning, please contact Melissa Meyer at 212-941-8906 ext 304 or mmeyer@eastsideinstitute.org.
Take the Survey on Emotional Distress and Mental Health Diagnoses!
Participate in our research on how people think about emotional distress and mental health diagnoses. Increasingly, mental health professionals in the US and internationally are questioning the role of psychiatric diagnosis in responding to people in emotional distress. What is the impact of giving and receiving a diagnosis, and of a reliance on a diagnostic framework in psychology? These discussions are primarily among professionals. We believe that this very important conversation needs the community's voice. We want to hear from you! Please take a moment to take our survey. Your responses are completely anonymous.