Meet The International Class 2016-17…
 
Back: Jitender, Jing-Wen Tseng (Rita) , Marian Rich,  Mauricio Canuto  Front:  Fang-Ping Weng ,  Lois Holzman, Lebogang Disele
Mauricio Canuto (Brazil) has his MA in Applied Linguistics from Pontifical Catholic University of São Paulo under the tutelage of friend and fellow Vygotskian, Fernanda Liberali. He has studied Newman/Holzman's performatory-developmental methodology. He is currently the head teacher at a CEU, a community school serving poor children in São Paulo, Brazil.
Lebogang Disele (Botswana) is noticing an increased debilitating anxiety amongst young women in Botswana about how to be, where to go, what to do . Lebo is interested in exploring the potential of theatre as a tool to address mental health issues affecting young women, particularly with gender based violence and recovery from personal trauma. She holds an MA in Dramatic Arts from the University of Witswaterand, and is currently pursuing her PhD at the University of Alberta in Canada where she will undertake the study of theatre's function as group therapy and a rehearsal space for taking power back.
Jing-Wen Tseng (Rita) (Taiwan) is inspired by the Theater of the Oppressed and has worked as a freelance practitioner of applied theater for a decade. She is interested in promoting critical awareness and reflection via theater and creative expression to connect the individual and society. Rita is co-founder of Amnesty International in Tainan City and works in a variety of community environments, including schools, NGOs and prisons.
Marian Rich (USA) is a performance activist, actress, comic educator and trainer. Through her company, Career Play Inc., she uses social therapeutics to help people grow through playful workshops and individual coaching. A theatrical collaborator of Dr. Fred Newman's, she helped to found the Castillo Theatre, where she has performed in dozens of plays, often performing characters written with her in mind by Newman. She has performed improv comedy for 20 years and has been teaching improv for a decade. Marian teaches the popular Improv for Everyone, a core class at UX, the All Stars' school for continued development. As an adjunct faculty member of the East Side Institute, Marian co-leads workshops on the relationship between humor, improvisation and human development. She is the resident performance and improvisation teacher and coach for the Institute's International Class during their residencies in New York.
Fang-Ping Weng (Taiwan) has her PhD in Sociology from Renmin University of China and a PhD in Psychology from Fu Jen Catholic University in Taipei where she is currently a lecturer in the psychology department. Fang-Ping served as the Secretary General for Collective of Sex Workers and Supporters (COSWAS) from 2002-2014 and stands as an executive council member of the Taiwan Action Research Association.
Jitender (India) received his BA from the University of Delhi. He is currently an activist artist at Pandies Theatre Group, founded 15 years ago in which young middle class facilitators work with impoverished boys and girls who have run away from their families and are living on India's railway platforms. These young people are rescued by NGOs and are studying at state sponso and put under the care of NGOs – to create theatre based upon their lives. The Institute's methodology attracts him because he believes we need to save and change society and serve humanity…"we shall overcome…".
Meet The International Class 2015-16…

Back: Armando Justo,  Oluwagbemiga Oluwasegun Windapo, Anastasios Gaitanidis, Lenore T. Farrell, Mayra Stergiou   Front: Lois Holzman, Yuan Sheng, Donna Males, Ursula Carrascal Vizarreta
L. Thecla Farrell (Trinidad/U.S.) hails from Santa Cruz, Trinidad and came to the United States to attend the University of Houston, where she received her B.S. in Business & Finance. More than 25 years ago, Thecla relocated to New York City where she met Fred Newman, Lois Holzman and the development community – and volunteers her talents as a producer at the All Stars Project, serves on its Board of Directors, and performs in plays at the Castillo Theatre. She is currently a project manager for a large global bank in New York City.
Dr. Anastasios Gaitanidis (U.K.) is a psychodynamic counselor and senior lecturer for the University of Roehampton. Anastasios strives to help individuals break away from questioning 'what's wrong with me?' and, instead, question 'what's wrong with the world?' He uses the works of Marx and other critical theorists (such as Adorno, Hegel, Benjamin, Derrida, among others) as a means to strengthen his research, teachings, and writings. He has a Ph.D. in Psychoanalytic Studies from the University of Kent, and a diploma in Counseling from the University of London.
Armando Justo (Mexico/U.S.) is a human developmentalist working at a multilateral development institution in Washington, D.C. Armando recently received his Ed.D. in Individual and Organizational Learning from George Washington University. He also holds a M.A. in Organizational Development and Human Resources from John Hopkins University-Carey Business School and a B.A. in Business Administration from Universidad Nacional Autonoma De Mexico in Mexico City. Growing up in Mexico, Armando paid close attention to the relations of his community and the development of Mexican youth. His doctoral dissertation analyzes the "NiNi" (neither study, nor work) phenomenon under a cultural and historical lens.
Donna Males (Wales) is a freelance performer and singer working on a project called "One Land Many Faces" on behalf of Volcano Theatre Company and in conjunction with La Transplanisphere (Paris)– a project that looks at European identity and toured Budapest, Berlin, Spain, and Swansea. Donna has worked with people from all backgrounds, including the homeless and the poor, and understands the hopelessness of people living in poverty. She also taught English to children at an ashram in Northern India where she used play and performance in the curriculum. She completed her B.A. (honors) in Performing Arts & Theatre at Swansea Metropolitan University, and a diploma in Business Administration at the University of Glamorgan in Wales.
Yuan Sheng (Tiffany) (Taiwan) received a B.A. in Psychology at the Fu Jen Catholic University in Taipei, Taiwan which fostered her interest in qualitative research and field study. She is currently the Head of Staff at Ludi Community University, a university which provides education to laborers and other professional workers in the community. Shocked and empowered by the vulnerable minority, she became a community activist for the rights of Lepers, sex workers, and immigrants, working with them through story telling and the creation of arts exhibitions. She has recently relocated to Mexico to start a new adventure exploring, studying and developing.
Mayra Stergiou (Maria) (Greece/U.K.) is a theatre worker and artistic director for Vertebra Theatre Company, and a Living Well Facilitator and part time dramatherapist for Jewish Care in London. Mayra works with children, teens, and adults with mental disabilities, coordinating recreational and therapeutic groups. She has also been working in prisons in the United Kingdom and facilitating drama therapy sessions for women with mental health issues and male offenders. Mayra received her B.Sc. in Educational and Social Policy, went on to get her M.A. in Dramatherapy from the University of Derby, and studied at Lecoq Based Devising Theatre and Performance at London International School of Performing Arts. She is researching puppetry for building communities internationally.
Ursula Carrascal Vizarreta (Peru) is the leader of the Cultural Association Minaq-Ecodanza, an initiative of community-based environmental/social education using the arts as a means of global transformation from environmental/developmental problems. As an environmental activist, educator, performer and journalist, she has extensive experience working and relating with youth, women, trade unionists, indigenous populations, and children in over 20 countries. These experiences have allowed her to understand that working collectively in a creative and participatory manner is the only way to help global communities achieve real change and rise above poverty, environmental pollution, and natural disaster. Ursula is currently a professor at UCSS University teaching leadership media and communication management, using therapeutic arts. She has a B.A. in Journalism from Universidad Jaime Bausate Y Meza in Peru, a three-year degree as a Professional Technician in Audiovisual Communication at Charles Chaplin Institute, and is currently finishing her M.A. in Gender, Society and Politics at Latin School of Social Sciences in (FIASCO).
Oluwagbemiga Oluwasegun Windapo (Gbenga) (Nigeria) is a theatre artist and lecturer at the Adeniran Oygunsanya College in Lagos, Nigeria. Gbenga has written and published several stage plays, which have received recognition in his country. He believes the relevance of the theatre is in its therapeutic qualities – theatre stimulates the community, its development and progress. He received his B.A. in Theatre Arts and an M.A. in African Studies, both from the University of Ibadan in Nigeria.
Meet The International Class 2014-15…

Left to right: Antonela Millote,  Art Assoiants, Jim Martinez, Eliane Barbosa da Conceicão, Marija Nikolic, Milena Otasevic, Lois Holzman, Todd Cowdery, Diane Buscemi, Muhammad Ali Zaidi,  Anna Caroline Toffanelli, Mogens Larsen Stenderup. (not pictured: Vanessa Almeida)
Vanessa Almeida (Sao Paulo, Brazil/ Detroit, MI) is a psychologist (UNIP), family therapist (Instituto Familiae), dancer and dance teacher. In Sao Paulo, Vanessa worked with homeless adults in a pioneer project that offered classes in different areas as well as art education and conversation groups. Later, she worked for the City of Sao Paulo, supervising projects not just focused on homeless, but for kids and youth on after school care programs. She was also part of the team that implemented and managed government Conditional Cash Transfer Program in the City of Sao Paulo (Renda Minima). She relocated to Detroit and is currently performing with Detroit based dance companies and teaching samba. Vanessa is a graduate of the Institute's Social Therapeutics Online Certificate Program.
Art Assoiants (Toronto, Canada) is receiving his B.A. in Psychology at York University with honors. He is a certified life coach, fighting to empower and engage young males in his community. He is also a program worker at the Learning Disabilities Association of Toronto District, creating a developmental environment for becoming. For him, the practical-active, philosophically oriented movement facilitated by the East Side Institute reverberates the most –the practice of method is a lifestyle towards which he feels a strong connection. Being part of the International Class gives him the process-based psycho-philosophical foundation with which he can spur the creation of a developmental community in Toronto and beyond.
Eliane Barbosa da Conceicão (Sao Paolo, Brazil) has a Ph.D. in Management and Public Policy. Eliane has researched children and young adults from low-income families showing that formal education is not enough to help them to find new life paths. She is currently working as a researcher at the Research Center on Public Administration and Government of Getulio Vargas Foundation, a professor at Mackenzie University, and as a consultant for Intel American Development Bank.  At the bank, she is responsible for designing a policy targeting the economic and social development of black people in the municipality.
Diane Buscemi (New York, NY) is an ESL teacher and activist with more than 30 years of working and community organizing experience. After graduating from the Bank Street College of Education and getting a TESOL certificate at the University of California at Berkeley, Diane worked as a lecturer and instructor at several universities including Columbia University and CUNY. After working abroad in Korea and Japan and building the development community for many years, she has come to understand the international nature of life in the 21st Century and the influence of the US. Buscemi is interested in gaining more insight into the philosophical underpinnings of Newman/Holzman's social therapeutic approach, and will incorporate her experiences into her teaching and organizing.
Todd Cowdery (Brooklyn, NY) facilitates change. As an MD practicing for 20 years he's helped individuals make personal changes.  Todd received an M.S. in Public Health and has helped communities develop and implement health-planning changes. Drawn by his perception of the transformative power of playfulness and presence, he has been expanding his experience and knowledge of theatre and improvisation for the past 14 years.  Applying science and pragmatism balanced with the principles of theatre — Todd trains, facilitates, and consults with individuals, groups and multi-national companies who want to escape "the box."
Jim Martinez (Jersey City, NJ) has a Ph.D. in Urban Education from the CUNY Graduate Center in 2009. He is working as an assistant professor of Instructional Technology at the New York Institute of Technology. Jim is a long time supporter of the East Side Institute and the All Stars Project. He has recently engaged in service learning partnerships between the university and public schools and over the next 12 months he expects to launch a service learning and research initiative with public schools in Queens, New York City and graduate and undergraduate student at his university. Jim is hoping to deepen his understanding of the methodological approaches used by the Institute from a researcher/educator/activist perspective and receive support for shaping his research project and developing manuscripts for publication in peer-reviewed journals. He is also looking forward to the opportunity of broadening his professional network and creating opportunities for international collaborations.
 Antonela Millotte (Brussels, Belgium) She received an M.A. in European Integration and International Relations in her home country of Romania. She also attended other Executive Master programs, one in Business Administration (EMBA) and one in European Politics and Communications (IHECS – Brussels, Belgium). Since 2007, Antonela has freelanced as a management consultant, European expert and certified trainer. She believes that innovation in education and the creativity of social therapeutic approaches can better help people break out of their own limitations.
Marija Nikolic (Belgrade, Serbia) is interested in finding new ways to make a better balance between her work and her intention to contribute to her community. She received her B.A. in Education and now works as a program officer at World Learning Inc. Fascinated by human nature and psychology, Marija thinks that social therapeutics may be a good way for her to do more for her students, who struggle with the socially predetermined roles of Serbian society.
Milena Otasevic (Belgrade, Serbia) received a B.A. in English Language and Literature at the University of Belgrade in 2009. She believes that social therapy and performance oriented programs at the Institute, such as The International Class provide a good tool for evidence-based social intervention in any community throughout the world. Milena is interested in learning more about the application of methods and skills in education and community-based programs that she can use in her professional work, academic goals and volunteer work on gender and minority issues (Roma and LGBTQI) in Serbia.
Mogens Larsen Stenderup (Aalborg Denmark) is an assistant professor at University of Northern Denmark and the head of the Department at the Talent Academy for Visual Arts, Municipality of Aalborg. Mogens believes that listening as a position of creating developmental designs is very important – and one of the tools he is developing with his students. In the International Class, he wants to explore more the plasticity of identity, the challenges of building developmental groups, and how one can work with social change through performative methods, and teach art-based approaches.
Ana Caroline Toffanelli (Maringá, Brasil) is in the process of obtaining her Ph.D in Psychology/ Educational Processes and Social Practices at the Universidade Estadual de Maringá, Brasil. She dreams of theater and psychology being combined to achieve social transformation and perform gender, and is especially interested in Vygotsky's discoveries.  Carol is excited to bring what she learns in the International Class, particularly Marxist psychology, to the teachers in Maringá.
Muhammad Ali Zaidi (Lahore, Pakistan) finished his M.A. at the University of the Punjab in Sociology, and a joint M.A. in International Migration & Social Cohesion at University of Amsterdam, University of Deusto & University of Osnabrück, Germany. Ali is currently a volunteer at Mother Teresa and an orphanage in Pakistan. As a member of the Human Rights Commission in Pakistan (HRCP) and Consultant at Misereor (a German INGO) his working experiences are within a broad field but have a focus on Human Rights & Community Development. Discrimination and intolerance in society compelled him to join HRCP – so he can contribute actively for peace and tolerance.
Meet The International Class 2013-14…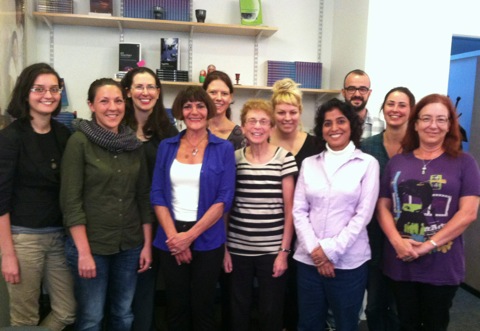 Left to right: Jelena Aleksic, Ksenija Milic, Sarah Weiler, Lois Holzman, Pauline Warinaar, Helen Abel, Lea Cikos, Shaheen Akter, Nilton Mendes, Elena Boukouvala, Teresa Cavanaugh 

Helen Abel (USA) has retired from her position as social worker at Alameda County Behavioral Health Care in outpatient mental health, day rehabilitation and casework. She is currently a social therapist and life coach at the West Coast Center for Social Therapy & Life Performance Coaching in San Francisco, and the outreach coordinator at All Stars Project in Oakland, California.
Shaheen Akter (Bangladesh) was a grassroots qualitative and quantitative researcher, and taught developmental psychology at the university level for nine years. She is currently a research fellow and faculty member at the Institute of Educational Development , BRAC University, where she facilitates courses, student activities, research, and group work. Shaheen wants to bring performance activities and social change to capacity building of administrators, supervisors, managers, trainers and teachers in the primary and elementary education.
Jelena Aleksic (Serbia) is currently a journalist for KulturKokoška an online Serbian newspaper and a performer's assistant at 'STARA KAPETANIJA''. During her personal experiences with transactional analysis and psychodrama she felt her freedom limited — and as an artist, her creativity constrained. In her search for new ways of doing therapy she found social therapy to create a space for development and progressive changes.
Elena Boukavala (UK) has worked in a variety of settings as a psychotherapist and drama therapist in schools, hospitals, mental health and rehabilitation wards, youth centres, refugee camps, community settings including LOGOS Rehabilitation Centre for people with history of addictions in Thessaloniki, Greece. She is currently a playworker with young people with disabilities at Westminster Society for People with Learning Disabilities. She also co-facilitates a project supporting people who work with children with autism in a Saharan refugee camp.
Teresa Cavanaugh (Canada) comes from a family with a long history of public service and volunteer work. They founded the Prince George Sexual Assault Centre (PGSAC), an organization for counselling and support of victims of childhood sexual abuse and rape, where Teresa volunteered as a group facilitator, computer services provider, and instructor for 13 years. She has trained with David Diamond and Headlines Theatre Company and is currently assistant director at Street Spirits Theatre Company, a youth driven social action theatre group which is therapeutic for all involved – actors and audience.
Lea Cikos (Serbia) is currently an executive board member, trainer, facilitator, programs coordinator, international exchange coordinator, volunteer and activist, Volunteers' Centre of Vojvodina, Novi Sad. In 2004, her and a small group of friends developed an organization with the main focus on developing volunteerism in Serbia. She is currently pursuing an M.A. in Environmental Protection at the University of Novi Sad.
Nilton Mendes (Brazil) is an educator and educational researcher influenced by the ideas of Lev Vygotsky. He has been a grade school English teacher for 17 years, and has innovated his classroom teaching and testing using performance and improvisation activities.
Ksenija Milic (Serbia) is currently an education and development officer at Junior Achievement Serbia where she works with both elementary and high schools coordinating schools from all around the Serbia. At 19, she joined a volunteer service in Serbia which enabled her to travel to other countries and work on a myriad of community projects.
Pauline Warinaar (Netherlands) teaches academic writing, professional writing and drama to students at the academy for Social work, The Hague University College. Next year she will also be teaching Dutch language arts and literacy, a program for students who are no at the desired literacy level.
Sarah Weiler (Brazil) is the head teacher at Stance Dual Bilingual School where she works to develop a school-wide curriculum utilizing activity theory in order to face twenty-first century challenges. She has previous experience working as an Americorps volunteer in a youth development office.

---
Meet The International Class 2012-13…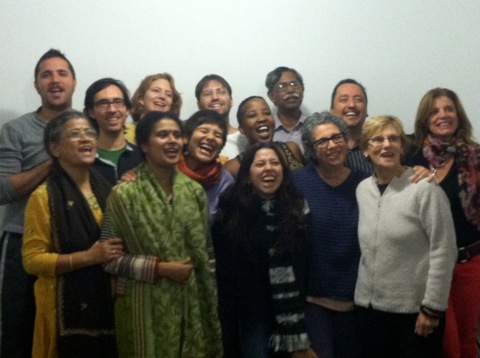 Back: Jaime Guiterrez Velez, Chris Reyman, Carrie Sackett, Ricardo Pinheiro, Nomsa Mazwai, Qazi Rahman, Jorge Burciaga-Montoya, Ana Iddings 
Front: Bharati Bakshi, Ranjana Sengupta, Paola Lopez, Regiane Sbroion de Carvalho, Barbara Silverman, Carol Gorelick

Jorge Burciaga-Montoya helps to build the Fred Newman Social Therapy Center in Juarez, Mexico. He is participating in the International Class to deepen his ability to bring social therapy into new personal and professional spaces. Jorge holds an MEd from the Universidad Autonoma de Ciudad Juarez where he teaches education. He is also the State Coordinator for the Centro de Asesoria y Promocion Juvenil (CASA).
Ana Christina DaSilva Iddings is an Associate Professor at the University of Arizona, Tucson, and researches English language learning for young immigrant children. She also trains teachers and is interested in the development of alternatives to mainstream and traditional models of teaching and building community—specifically, alternatives that relate to people of all ages as social performers and agents of what they and their communities are becoming.
Carol Gorelick received her EdD from George Washington University after a 25-year corporate career and raising a family. She is the co-founder of ABC Connects, a non-profit school partnership between South African and Detroit, Michigan elementary schools. Carol is particularly interested in early childhood development and play.

Jaime Guitierrez Velez hails from Bogota, Columbia, but has studied in Belgium and the United Kingdom since 2001. He holds an MA in Social Anthropology from Brunel University in the UK and is currently pursuing a PhD in Performance Studies at the University of Roehampton where his thesis is "Narratives of Memory, Body and Identity: El Colegio del Cuerpo's dance theater, Cartagena de Indias".
Ricardo Lana Pinheiro is a researcher of social networks in the Brazilian health system who is looking to broaden his practice as a psychologist. He has translated Lois Holzman's work into Portuguese and is eager to connect further with the Institute and its practice and method of building community. Ricardo is about to complete his MA in Psychology at the Universidade de Sao Paolo.
Nomsa Mazwai hails from Gauteng, South Africa where she is the Country Director of ABC Connects, a non-profit school partnership between South African and Detroit, Michigan elementary schools. A Fulbright scholar with an MA in International Political Economy and Development from Fordham University, Nomsa sought out the Institute in her search for alternative approaches to addressing local challenges through community.
Sandra Paola Lopez grew up in Colombia and is currently pursuing her MA in Aesthetic Education at the University of Illinois. Two years ago she attended the IDEA World Conference in Brazil where she got introduced to Newman and Holzman's work. Sandra sees dance improvisation as a tool for social transformation and in her work has discovered a collective awareness and creativity that emerges out of the group.
Qazi Abdur Rahman is the Principal of ERA International School in Dhaka, Bangladesh, which he founded in 2003. With over 20 years in the field of education, Qazi went out on his own with the idea of creating the best educational and community environment for his students. Qazi considers finding and reading Vygotsky at Work and Play by Institute director Lois Holzman to be a definitive moment. Through participating in the International Class, he envisages new, growthful possibilities for himself and colleagues. He holds an MEd from Dhaka University.
Christopher Reyman coaches jazz ensembles and teaches improvisation, composition and music theory in Champaign-Urbana, Illinois, where he earned an MM and a DMA in Music. He recently had his first collaborative improvisation experience between musicians and dancers. Christopher regards collaboration and play as essential activities for personal growth and necessary for human development. He is particularly interested to bring new approaches into the education system.
Carrie Sackett is a community organizer who has spent over 20 years building projects inspired by the human development discoveries of Fred Newman and Lois Holzman. She currently serves as Executive Director of Boys' & Girls' Towns of Italy, an international youth development program that empowers war refugee, migrant and at-risk youth. Carrie has lived in Italy and Namibia and resides in New York. She holds an MA in Strategic Communications from Columbia University.
Regiane Sbroion de Carvalho is pursuing her PhD in Psychology at the Universidade de Sao Paolo, Brazil, teaches at Centro Universitário UNIFAFIBE and volunteers at Rural Settlement Mario Lago. Assigned Newman and Holzman's Lev Vygotsky: Revolutionary Scientist by her doctorate advisor, Regaine sees social therapy as a way to bring together science, psychology and politics in her studies and practice of empowering rural landless children.
Barbara Silverman is a pioneer social therapy practitioner with over 30 years experience building groups and developmental environments. She is nationally recognized for her work with teenagers and has created an array of innovative programs for community-based agencies, mental health centers and schools. She currently leads the Global Therapy Group and is on the faculty of the East Side Institute.
---
Meet The International Class 2011-12…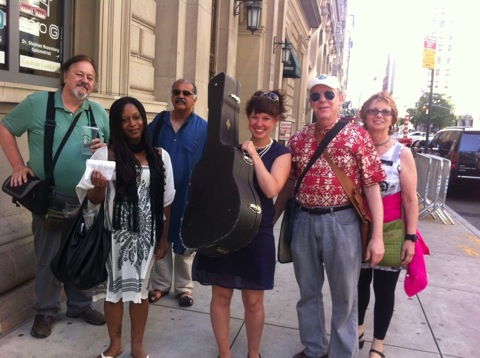 From left to right: Andrew Burton, Jocelia Karlina De Daniel Salu, Sanjay Kumar, Jody Boston, David Belmont, Kim Svoboda

David Belmont (NYC) has been active in building the development community in New York City since 1979. He is currently director of research for IndependentVoting.Org; co-chair of the Castillo Theatre's music department, and on the faculty of the East Side Institute. David studied philosophy at the University of Chicago before dropping out at age 18 to be a full-time musician (hippie). 

Jody Boston (Canada) is an artist and a teacher in Hamilton, Ontario.. She has a Bachelor of Arts degree from the University of Toronto: areas of concentration –theatre and drama studies, professional writing/ communications, English. Currently she is artist in residence with Under the Willows, a program for children who have experienced abuse, trauma, neglect and deprivation (founded by Ruth Pickering). Jody attended PTW 2010. 

Andrew Burton (Canada) is a prevention coordinator with BC Northern Heath in Prince George, British Columbia. He holds a Bachelor of Social Work from the University of Manitoba and a Masters of Education from Simon Fraser University; concentration in fine arts education. His work with young people and theatre led to the development of the Street Spirits theatre program. Street Spirits members take part in a process creating original plays that address issues in the world. Andrew and Street Spirits are regular PTW presenters. Andrew completed the Social Therapeutics Online program in 2011.

Jocelia Karlina De Daniel Salu (Mozambique/NYC) has a Masters of Arts in clinical psychology from Columbia University Teachers College, and Bachelor of Arts degree in clinical psychology from Richmond, the American International University in London. In 2009 Karlina worked as a teachers assistant at Tokyo University of Foreign Studies and, later, interned at the International Center for AIDS Care and Treatment Programs, Maputo, Mozambiuque. Karlina interned with the Social Therapy Group/East Side Institute this past year.

Sanjay Kumar (India) is the founding president/artistic director/chief facilitator of Pandies' Theatre, a New Delhi theatre of children, women, slum-dwellers, and the homeless. He holds a Masters of Philosophy from the University of Delhi (concentration, English/Theatre), where he is currently a professor of English at Hans Raj College, University of Delhi. 

Ziaul Hague Sumon (Bangladesh) is a senior career counselor at the Career Development Center (CDC) at Daffodil International University in Dhaka, Bangladesh. In 2008 Ziaul received a Bachelor of Business Administration (BBA) in marketing from Daffodil International University. He is Syed Rahman's "right-hand man" and managed our schedule in Bangladesh.

Kim Svoboda (NYC) is an artist, organizer and producer who has been active in the development community in New York City since the mid-1980s. For the last 22 years, Kim worked as a personal assistant to Fred Newman, the founder of social therapy. She has a Bachelor of Science from the University of Wisconsin, concentration in fine arts. 
---
Meet The International Class 2010-11…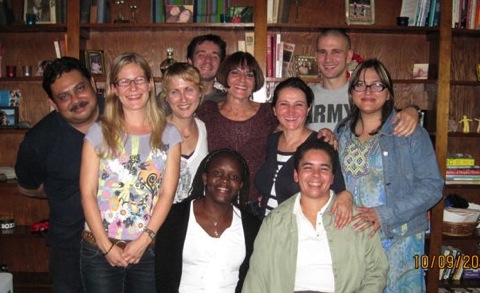 Back Row: Arnob Chakraborty, Milovan Savic, Bojan Drmonjic
Middle Row: Tamara Nikolic Maksic , Tamara Borovica, Lois Holzman, Safida Begum, Uzma Hameed
Front Row: Rebecca Nerima, Raquell Holmes

As the first woman to attend and graduate college from the Hunza, Gojal area of northern Pakistan, Safida Begum has spent the last 20 years breaking through the barriers of traditional beliefs and male-dominated cultural practices, sometimes at great personal cost. Despite these difficulties, she has educated herself and her children, and created successful educational programs for people in the Gilgit-Baltistan area of Pakistan and Badakhshan, Afghanistan. In addition to creating a school improvement program and initiating an Early Childhood Education program for children ages 3 to 6 years, Safida has emerged as a key figure in developing the local capacity of teachers, school leaders and the Government Education Department in Pakistan and Afghanistan. She received a Master's degree at the Professional Development Center North (AKU- PDCN) and Mountain Institute for Educational Development (MIED) in Islamabad, Pakistan. Safida has also been an international visiting scholar at the University of Kansas and American University. 

As one of the first students to participate in youth development and leadership studies in the post-conflict Balkans, Tamara Borovica has worked as a youth and community worker in Novi Sad, Serbia for the last decade. In addition to participating in the development of a number of local, national and international youth initiatives, Tamara is on the Faculty of Philosophy at the University of Novi Sad, teaching courses on educational pedagogy and didactics. She received her B.A. and M.A. in Education, and is currently working on her Ph.D. from the same university.

As a young postgraduate student working with communities in the Indian state of West Bengal, Arnab Chakraborty saw firsthand how women living in these communities were disproportionately affected by the extreme poverty under which they and their families lived. In response, he began organizing women into self-managed and self-governed collectives, which help members create a vision, explore the realities in which they live, and supports them to work together to change their conditions and rediscover hope. Arnab continues this effort sixteen years later as Programme Director with PRADAN, one of India's most respected NGOs. He received his Masters in Agricultural Economics from G.B. Pant University of Agriculture and Technology in India.

Currently the primary coordinator of the Centre for Drug Abuse Prevention (EMPRONA) in Novi Sad, Serbia, Bojan Drmonjic is a psychologist with experience as a trainer in several areas, including drug abuse prevention, assertive communication, group facilitation, health care and conflict resolution. While a student at the University of Novi Sad, where he received his Masters degree, Bojan participated in several programs around Europe dedicated to improving intercultural dialogue. 

Currently a community education program manager in District Abbottabad, Uzma Hameed is an education professional who has developed and led a number of projects in Pakistan over the last seven years. Previously Uzma served as principal with the Al Muslim Education Network, teacher at a city school in Kasur, education coordinator with SOS (Sutlej Resource Center), and education coordinator of Community Uplift Program Pakistan (a national development organization in District Mansehra). Uzma has a M.A. in English Literature, a graduate degree in education planning and management and postgraduate diplomas in teaching English as a Foreign Language, project management, human resource management and computer science.

Raquell Holmes is a biologist currently working at the Center for Cell Analysis and Modeling at the University of Connecticut Health Center, where she leads education, outreach and training efforts in computational biology and interdisciplinary training in biology education. Her innovative approach uses performance and improvisation to help scientists grow and creatively develop new skills, ideas and practices that change, challenge and incorporate traditional research practice models. Raquell received her Ph.D. in Cell, Molecular, Developmental Biology from Tufts Sackler School of Biomedical Sciences in Boston, and has done postgraduate studies at the Dana Farber Cancer Institute. 

As an educator, trainer and researcher, Tamara Nikolić Maksić is interested in better understanding how people relate to themselves and others and exploring new approaches to learning for change and development. She lives and works in Belgrade, Serbia, where she is a teaching assistant at the Department for Pedagogy and Andragogy (Adult Education) at the Faculty of Philosophy, University of Belgrade. Tamara completed her undergraduate studies in Andragogy and has a master degree in both Andragogy (Faculty of Philosophy, University of Belgrade) and Human Relations (School of Education, University of Nottingham). Her work involves adult education and learning related to leisure, communication and media and, most recently, online learning. 

Over the last seven years, Rebecca Nerima has been tireless in her efforts to educate, empower and advocate on behalf of Uganda's most marginalized populations, including young people, commercial sex workers, women and people affected by and infected with HIV/AIDS. As a project officer for HIV/AIDS with the African Medical and Research Foundation, she is responsible for community education and training in HIV/AIDS. Becky has also pioneered a community advocacy group for people infected and affected by HIV/AIDS, trained a national community of women living with HIV/AIDS in human rights advocacy, and volunteered with UNICEF/Rural Voices of Youth, where she mobilized and trained young people in some of the most rural areas of Uganda. She received her B.A. in Social Sciences from Makerere University in Kampala.

A professional youth worker and international trainer from Novi Sad, Serbia, Milovan Savic's interest in different cultures and intercultural learning led him to live and volunteer in Sweden for a year as part of the European Voluntary Service program. Milovan is program coordinator for the Volunteers Center of Vojvodina (VCV), a peace organization that provides young people with volunteer opportunities in Serbia and around the world. VCV believes that volunteering is a fun way to meet new people, do something good, have new experiences and, in so doing, to learn and develop. Milovan has a joint B.S in Community Youth Work from Alpha University, Serbia and Jönköping University, Sweden.
---
The International Class 2009-10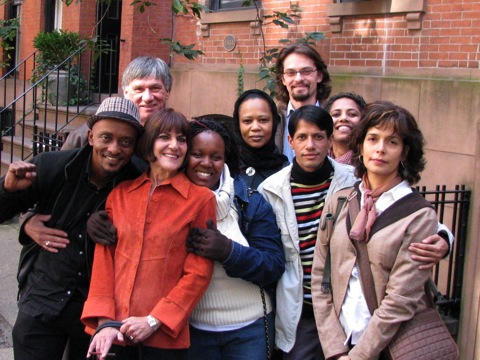 Back Row: Rick Kotowich and Murilo Moscheta, Middle Row: Sarra Hassan Ali and Saliha BavaFront Row: Babafemi Babatope, Lois Holzman, Hellen Nuwagaba, Ahmad Saeed Khan, Livia Daza-Paris

Sarra Hassan Ali is a public health physician from Sudan interested in advancing the health and human rights of marginalized peoples. Her drive to work with vulnerable communities stems from her experiences in conflict and post-conflict regions such as South Sudan and Darfur, where she was exposed to the legacy of war, the trauma that lingers, and the unique challenges facing these communities.

Toward this end, Sarra served as senior program officer at the Sudan IDS Association and program officer at the Blue Nile Health Project in Sudan, and program consultant at the NH Minority Health Coalition in New Hampshire. As a member of the Sisterhood for Peace strategic group, Sarra participates in organizing events to raise awareness about the crisis in Darfur. She also assists in building capacity for community leaders and grassroots organizations working to promote peace and human rights in Sudan. Sarra earned her Masters in International Health Policy and Management from the Heller School for Social Policy at Brandeis University.

Babafemi Babatope began his career as a lecturer in 1995, teaching in Adeyemi College of Education, Ondo, Ondo State, Nigeria. He left for the Lagos State University, Ojo, Lagos, in 2004 where he has been lecturing in the Department of Theatre Arts and Music ever since. He has attended many academic conferences and workshops within and outside Africa and published in academic journals. In addition to teaching and scholarly work, Babafemi has directed several plays, written a few, and acted on stage and screen. 

Saliha Bava is interested in the performance of (complex) relationships among people, the systems we create, and the construction of our social lives and realities. As a social "actor" ("scientist") she combines interdisciplinary ideas and methodologies to reflect, design and perform processes for transformational relational processes. She embraces living as processes of improvised inquiry. Originally from India, she is becoming a New Yorker after relocating from Houston for a sabbatical.   Saliha is a consultant and designer of performative and dialogic processes within human systems—organizational, family/community, learning and research systems. She also performs as a couples and family therapist and coach for generative professional and personal relationships. Over the last seven years she has consulted on disaster preparedness and response to organizations in profit, non-profit and governmental sectors. She received a leadership award from the City of Houston's Disaster Mental Health Crises Response Team for directing the Mental Health Services at the George R. Brown Katrina Shelter in 2005. She is one of 12 US trainers in the National Child Traumatic Stress Network on Psychological First Aid.   Formerly the associate director of Houston Galveston Institute, Saliha is currently a researcher and consultant to the International Trauma Studies Program affiliated with Columbia University where she is researching the use of theater for community resiliency and psychosocial intervention among refugees of political violence. She is also an adjunct faculty member at Yeshiva University in NYC, an online faculty member at Massey University in New Zealand, and doctoral advisor at the Taos-Tilburg Social Sciences Program, Netherlands. Saliha received her PhD in Human Development with specialization in Marriage and Family Therapy from Virginia Tech.

Ahmad Saeed Khan started his professional career in the development sector while studying for a Masters of Public Administration at Punjab University Lahore in 2001. For the past seven years he has been engaged in Pakistan with leading development sector organizations, including USAID, CIDA, UNDP, the Ministry of Social Welfare and other national institutions. His work has involved event management, design and implementation of training programs, research studies, strategic management and policy making. Ahmad is also actively involved in forming community organizations at the grass roots level mostly in rural and disadvantaged communities through providing trainings on social activism, community empowerment, participatory management, human rights and gender mainstreaming in nation-building. He is a published author on the topics of democracy, peace, good governance, social inclusion, migration, minority rights, and development. Ahmad has been awarded scholarships from leading educational institutions, including EC, Austrian Ministry of Education, University of Espana, OSI, University of Helsinki, and Council of Europe. He is currently enrolled in a Joint European Master in Comparative Local Development with University of Trento (Italy), University of Regensburg (Germany), Corvinus University, (Budapest) and University of Ljubljana (Slovenia).

Rick Kotowich has lived most of his life in Regina, Saskatchewan, Canada. He holds a Bachelor of Administration degree from the University of Regina. Throughout his career, Rick has served as a community educator and community developer in First Nations and Metis communities in rural, reserve and urban settings; he has worked in various roles including youth recreation organizer, small business education instructor, program developer, inner-city community school coordinator, public health aboriginal community development coordinator, aboriginal health project manager, and indigenous consultant on social and cultural matters. , and a program developer. For the past five years, Rick has been a member for the National Aboriginal Council on HIV/AIDS (NACHA) and served as co-chair of the Metis Caucus that advises federal government departments on effective responses to the epidemic. Rick's commitment to community development also extends to his community volunteer interests; presently he chairs the board of Common Weal Community Arts Inc., a provincial community arts organization that connects artists and communities for social change, and he serves on a steering committee for Creative Kids, an emerging charitable organization designed to help poor and marginalized children and youth advance in creative and artistic development. Rick is married to Patricia Erhardt, and together they parent four offspring who are themselves involved and growing in academics, music, dance, and community life. 

Murilo Moscheta started his career as a clinical psychologist in Brazil. He has worked in a variety of institutional contexts, mostly with groups of people concerned with health issues such as breast cancer, anorexia and bulimia, diabetes and aging. As an educator he has taught undergraduate psychology courses and supervised practica. Murilo received his masters degree in psychology from the University of São Paulo – Brazil and is now working on his PhD with a fellowship from the University of New Hampshire. A founder of VIDEVERSO, a group that researches innovative ways of working for the development of GLBTs communities, he works in collaboration with a health care team in Brazil to develop a more effective health assistance to GLBT patients. Murilo is interested in qualitative research methods, community development, social constructionism, GLBT issues, music and arts.

Hellen Nuwagaba is a social worker and the project coordinator of the International Power Center Children and Youth Ministry, a non-governmental organization that aids orphaned and disabled children and youth in Kampala, Uganda. She has collaboratively written proposals seeking funds for the project's construction and educational needs. She encourages play, music, drama and arts and crafts and teaches introduction to computers class to the youth. hence her interest in attending the developmental approach to child development and social therapy for more advancement in her field of work with the organisation. 
---
The International Class 2008-9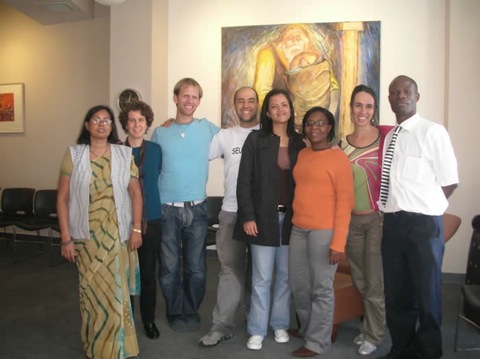 From the left: Prativa Sengupta, Lisa Dombrow, Esben Wilstrup, Simon DeAbreu, Armida (Midz) Aligada, Dikeledi (Maggie) Moremi, Celiane Camargo Borges, Peter Nsubuga

Armida (Midz) Aligada is from Quezon City, the Philippines and has a bachelor's degree in Social Work from Centro Escolar University. For six years, Midz worked in a shelter for women and children sexually exploited in the trafficking industry. She is now in the US and plans to attend graduate school. Midz currently volunteers at the All Stars Project.
Celiane Camargo-Borges is a researcher and psychologist with a Ph.D. in Public Health. Celiane worked with communities and groups on issues of health care using social constructionism as a theoretical background. A native of Brazil, Celiane has experience working in the country's national health care program. She is currently teaching classes in qualitative research at the Yan Ming University in Taipei, Taiwan where she was recently relocated. She also volunteers at a center for expatriates and their families in Taipei.
Simon DeAbreu is the founder and artistic director of the TLC (Theatre of Liberation Community Project) in Ontario, Canada. The TLC Project uses arts-based activities to help children and teenagers ages 7-17 develop a greater knowledge of themselves and a larger understanding of their environment locally and globally. Simon received a bachelor's degree in Mass Communications, Theatre and Film from McMaster University and a master's degree in Theatre Studies from York University.
Lisa Dombrow, a native New Yorker, has worked in the field of education for over twenty years. She was a nursery school and kindergarten teacher before moving into informal education, eventually becoming the coordinator of the Discovery Room, a hands-on science learning environment for all ages at the American Museum of Natural History. Today she continues her work in the Discovery Room while also serving as a development specialist for The Learning Stage. She has an undergraduate degree in psychology and masters in early childhood and elementary education from Bank Street College. Lisa loves to play and is excited about playing and learning with The International Class.
Dikeledi (Maggie) Moremi is a research psychologist and lecturer in the Department of Psychology (Medunsa Campus) at the University of Limpopo in Pretoria, South Africa. She currently works with a project called Children on the Move, an organization providing care for children orphaned by parents with HIV/AIDS and their caretakers and guardians. The project utilizes improvisational activities to develop a supportive environment with children and empower caretakers and guardians overwhelmed by childcare challenges.
Peter Nsubuga is a community worker in Kampala, Uganda. A trained accountant, Peter switched professions to respond to the need for help in communities suffering from disease, extreme poverty, and lack of clean water. Peter founded Hope for Youth, an organization that provides food, clothing and education for 120 children. He is looking to his experiences with The International Class to help him develop tools necessary to provide emotional support services to children as well.
Prativa Sengupta is chief psychologist and coordinator of SEVAC (Sane and Enthusiastic Volunteers Association in Calcutta), a mental health and human rights resource center and NGO in Calcutta (Kolkata), India. SEVAC recognizes the violation of human rights of people suffering from mental illness, and provides psychiatric, occupational, mental health education, outreach and human rights advocacy services. Prativa is one of only 3,500 mental health professionals for the 1.13 billion people in India. She practiced as a clinical psychologist before ending her private practice to join SEVAC. Prativa has a Ph.D. in psychology from the University of Kolkata.
Esben Wilstrup is a postgraduate student of psychology at the University of Aarhus in Denmark. He is committed to figuring out the best way to facilitate profound learning and change on individual, group, and organizational levels. His experiences as a leisure-time teacher and as a facilitator of role playing games has made him a firm believer in the learning potential of play and performance. Esben studied educational psychology at the University of Aarhus (where he earned his bachelors in psychology) and at the University of Technology, in Sydney, Australia. He sees The International Class as an opportunity to become part of a community of learners who both discuss and theorize about learning and education and see social action as an inherent part of being an educator and a human being.
---
The International Class 2007-8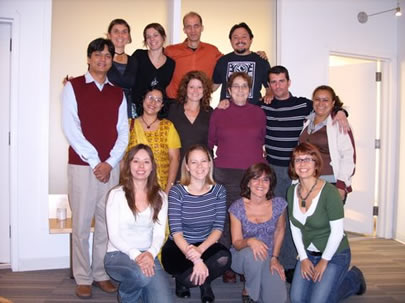 Top Row: Svetlana Kijevcanin, Milena Lazic, Joe Spirito, Miguel Cortes Middle Row: Shoaib Iqbal, Ishita Sanyal, Kim Sabo, Jane Connor, Ignacio Dalton, Lupe Barahona Bottom Row: Itzel González, Emina Dervisevic, Lois Holzman, Radmila Zivanovic
Ana Guadalupe Barahona (El Salvador)
Jane Connor is Bartle Associate Professor of Human Development in the College of Community and Public Affairs, Binghamton University, New York.  Her current teaching and scholarly interests include multicultural psychology, playback theatre, and compassionate communication (also known as nonviolent communication) — a process that supports better connections and understanding among people to meet the needs of all.  She received an award from the NAACP in 2002 and the Chancellor's Award for Excellence in Teaching in 2003. Jane is co-author of Connecting Across Differences: A Guide to Compassionate Nonviolent Communication.  She attended several Performing the World conferences, where she became intrigued by the Institute's work. "I am excited about exploring and developing ways in which performance and improvisation can support the sharing of nonviolent communication in under-served communities."
Ignacio Dalton, from Buenos Aires, Argentina, works at the Universidad del Salvador, Secretaria de Investigaciones Educativas (Division of Research), Instituto de Capacitación Continua. With a Master's degree in education and a specialization in clinical psychology for children, Ignacio is a member of several professional associations concerned with early childhood literacy and has researched the relationship between language learning, literacy and play.  He is a member of the International Reading Association from which he received a research grant in 1993.  He was attracted by the opportunities offered by The International Class to work with other professionals to "develop new understandings about the impact of culture on social, moral, and cognitive developmemt with a focus on Vygotskian theory."
Emina Dervisevic– a citizen of the Balkans — was born in Croatia, moved to Serbia as a child, and for the last 20 years has lived in the capital city of Sarajevo in Bosnia and Herzegovina. Living in a post-war, nationalistically divided Balkans, Emina was drawn to postgraduate studies in human rights and democracy.  After earning a Master's degree in psychology, she worked in several mental health settings, including programs for women survivors of domestic violence.  She currently works in Sarajevo as an evaluator for a mental health service and as a research assistant at a psychiatric clinic.  Her greatest motivation for joining The International Class has come from her interest in challenging traditional models of psychology and psychotherapy and in sharing experiences with people coming from different backgrounds and cultures.
Kim Sabo Flores is an evaluation consultant and leader in the emerging field of youth participatory evaluation. With an undergraduate background in developmental psychology and philosophy, Kim received her Ph.D. in environmental psychology from the Graduate Center of the City University of New York. As a consultant, she introduces adults and young people, their programs and their communities to the empowering impact of creative and sustained participation, reflection and evaluation.  She has worked with numerous foundations to help build their evaluation capacities, supporting them to measure their "community" impacts and progress toward achieving their missions.  Her approach – informed by a study of developmentalist, Lev Vygotsky – highlights the performatory nature of participatory evaluation and the contribution of performance to human learning and development.  A founder and principal of the New York City-based Kim Sabo Consulting, Kim generates collaborative projects that educate program staff and funders about ways that participatory evaluation can help to build organizational capacity. She is the author of numerous articles on participatory evaluation and the author of the recently published, Youth Participatory Evaluaion: Creative Strategies for Involving Young People in Evaluation.
Diana Itzel González comes to The International Class from Ciudad Juárez  in the State of Chihuahua México where she works with CASA Promoción Juvenil, a nonprofit organization that supports the leadership and development of young people in marginal communities.  As a community organizer with CASA, she heads the Young Women' s Program, which hosts self-help groups and community intervention to prevent acts of violence against women. Diana also participates in Mesa de Mujeres, a network of NGOs that lobbies and advocates on behalf of the rights of women.  She holds a B.S. in psychology and has completed post-graduate studies in gender studies, sexuality and human rights.  As a social activist she is interested in learning social therapeutic methodology to support her work as an innovator in building community.
Shoaib Iqbal is an arts educator from Lahore, Pakistan. He began his involvement with community theatre in 1986. He studied with Pakistan's independent and volunteer political theatre group, Punjab Lok Rahs, while completing his degree in computer science. Intrigued by acting and performance, Shoaib gradually developed a passion for "pro-people art" and theatre education–"grabbing hold of theatre for the rest of my life." He has come to believe that art and art education is important to social cohesion and vital to shaping the lives of ordinary people.  Recently, Shoaib completed a fellowship at The Kennedy Center for the Performing Arts in Washington, D.C.  He enters The International Class with an interest in complex models for arts education and progressive theatre.
Svetlana Kijevcanin joins The International Class from Belgrade, Serbia. With a Master's degree in psychology, she is the co-founder of one of the first NGOs in Serbia. Through this work, she helped create and implement programs in constructive communication and conflict transformation.  She has been a peace trainer for years and has conducted hundreds of trainings for many groups. In recent years, she has played a managerial role in several international NGOs. Svetlana has traveled extensively in the Balkans, Europe, and North America but always returned to Serbia…"no matter how difficult it was." Svetlana has developed a global network through her travels and looks forward to expanding her circle of friends and colleagues in The International Class.
Milena Lazic is a psychotherapist from Belgrade, Serbia. She completed her undergraduate studies in psychology and personal construct psychotherapy at Belgrade University and is now pursuing a postgraduate program in Gestalt psychotherapy at the Gestalt Studio.  Since 2001, she has worked as a trainer with young people and adults, teaching basic communications skills, active listening, conflict resolution and team-building.  She also volunteers with a  kindergarten program that supports the emotional development of young children. Milena was greatly impacted by the discoveries of Lev Vygotsky – and was especially intrigued by his concepts of lifelong development through joint activity and the zone of proximal development. She thinks that The International Class may help to bridge her professional interests as a psychotherapist and trainer. "It's an opportunity to explore new psychologies and methodologies, create new insights, question traditional notions and then pose new questions all over again."
Ishita Sanyal is a psychologist in Kolkata, West Bengal, India, where she makes her living working part-time as a psychotherapist and corporate consultant.  Ishita is founder and secretary of Turning Point, an NGO whose mission is to rehabilitate victims of mental illness and fight stigma. She is also director of Disha, a child guidance and care center. In both contexts, she incorporates creative play and performance as an approach that inspires confidence and joy, as well as allowing participants to transform who and how they are. Ishita is a regular advice columnist for newspapers in Calcutta and has written books and chapters on mental illness. In 2003, she received the David Feinsilver Award for her research work on family empowerment and, in 2007, the Manthan Award.  Ishita hopes that The International Class will enable students to share experience and become more able "to create a new world free from agonies."
Joe Spirito (USA)
Miguel E. Cortés Vazquez lives in Ciudad Juarez in the State of Chihuahua, Mexico, near the US/Mexican border.  As a doctoral student in experimental psychology at Washington State University, Miguel became deeply aware of his minority status and of how psychology's core assumptions could not be addressed within the framework of cognitive psychology. He studied authors that questioned the premises of his course work and research – diving into critical psychology, socio-historical psychology,  liberation psychology and Paulo Freire'sPedagogy of the Oppressed. After health concerns forced Miguel to return to Juarez, he eventually earned a Master's degree in systemic family therapy, but then started his unofficial "postgraduate work" at a non-profit community group, CASA, working in one of Juarez' most marginalized areas. This work inspired him to continue to develop and grow personally and professionally, which led him to The International Class. He is interested in exploring the impact of Lev Vygotsky on social therapy and in "revolutionizing" his work with young people. Miguel and his wife Mariana are the proud parents of Lila who is now 9 months old. Miguel plays percussion with the band, Cosas de Circo.
Radmila Zivanovic comes to The International Class from Skopje, Republic of Macedonia. She completed her undergraduate studies psychology, has a Master's degree in communications, and completed a year of study in youth work.  As a community psychologist and practitioner, she supports groups of young people in their personal and social development.  She has worked as a project manager for community youth programs and as a drama workshop facilitator with young people – in both contexts, using art and performance as tools for social change.  Radmila sees young people as responsible co-creators of their communities and, conversely, believes that communities are responsible for providing support to young people to grow as active citizens. She looks forward to learning and developing with her mentors and her colleagues in The International Class and in applying new practices in her community.
---
 The International Class 2006-7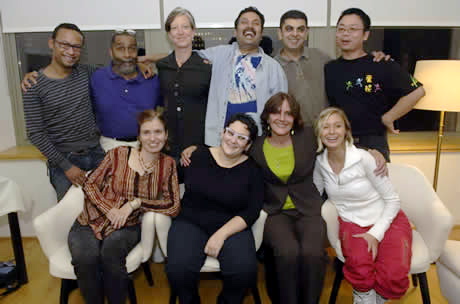 Top Row: Ernesto Barahona, Halim Faisal, Loree Lawrence, Syed Mizanur Rahman, Dejan Dimitrov, Powpee Lee.
Bottom Row: Julie Vaudrin-Charette, Rebecca Widom, Lois Holzman, Synthia Borilekic.
Not Pictured: Diane Holliman, Pamela Ateka
Ernesto Barahona was born in El Salvador, and immigrated to the United States when he was seven. His family lived in a dangerous neighborhood in northeast Los Angeles, where his father was a fundamentalist preacher. Ernesto attended Occidental College on scholarship, and later received a B.A. from the Fashion Institute of Design and Merchandising. He worked for a short time as a fashion designer in L.A.'s garment industry, then left to enter the nonprofit sector. Ernesto joined the staff of St. John's Well Child & Family Center, a network of free medical, dental and mental health clinics that provide services to over 70,000 patients a year who come from the poorest neighborhoods of LA. As its development director, he raises millions of dollars each year in grants and contracts, while also building a community fundraising committee. A community activist and organizer, Ernesto directs outreach and education for St. John's and is director of the L.A. chapter of the All Stars Talent Show Network, a performance-based supplemental education program for young people.
Synthia Borilekic (Synthia Zbojilek)—Czechoslovakian, Spanish, Portuguese, and French Canadian—is a film director and writer based in Montreal. She is currently completing her graduate studies in drama therapy at Concordia University and works as director of business development for Voice Job, Inc. Synthia has worked as a drama and singing teacher and at numerous arts centers, community development organizations and youth organizations, including Carrefor Jeunesse Emploi, where she served as immigration counselor.Synthia's latest project is Ça brime Sabrina, a short film on the theme of bullying that she wrote, directed and produced with a grouping of 27 Haitian, Central and South American drama students. Other collaborations with students includeAu Retour de l'Amour (about September 11th), and We Know Aliens. Synthia is currently writing her first documentary on the subject of freedom.
Dejan Dimitrov is from Glozan, a town in Vojvodina, Serbia. An activist and organizer, he works with the Roma Students Association, a 20-member grouping helping Roma (gypsy) and other marginalized people in Serbia lead more dignified lives. The Association has been effective in advancing the mainstreaming of Roma children into the public schools. Their practical assistance to Roma first-graders includes providing snacks, books and other materials that the children need for school. Dejan also contributes as facilitator, organizer and advisor to other social and educational inclusion-projects advocating on behalf of the Roma community. These include the League for the Decade of Roma; the Educational and Health Committees; the Roma School; and the "Happy Childhood" organization. All work to create public dialogue on inclusionary pre-school education policy. Recently, Dejan also served in the Roma Elderly Care Project and Roma Health Education Project.In his free time he likes going fishing!
Halim Faisal is a clinical social worker at the Odyssey Health Care and Home Care Hospice in Valdosta, Georgia. He came of age in New York City during the 1960s and was involved in a variety of counter-cultural experiences (social and political.) He left New York as a young man in his mid-20s. Presently, he works for a rural clinic, where he spends his days traveling from home to home meeting and interacting with people who are dying or are grieving the loss of a spouse, parent or friend. He also works with young people referred by the court system. "I am someone who works in the trenches, wherever I am," says Halim. "I occasionally experience a connection with people who are so different from myself that I am able to see the world through their eyes. People who would have been strangers or enemies, or merely nondescript, teach me something I hadn't expected to learn. They teach me what it means to be a human being, regardless of what my preconceptions may have been."
Diane Holliman is an Associate Professor of Social Work at Valdosta State University in Valdosta, Georgia. She completed her social work studies at the University of Georgia and her Ph.D. at the University of Alabama. A postmodern social worker, her research and teaching interests focus on social work and health care, hospice care, social work with the elderly, and social work policy/services in rural areas.
Loree Lawrence is an artist, educator and researcher whose work with community arts initiatives in Canada spans 20 years. Since being hired as the Theatre Director at KYTES (Kensington Youth Theatre and Employment Skills) in Toronto in 1995, she has worked primarily with homeless and street youth. Working in both Toronto and Vancouver, Loree organized "at-risk" young people to create collaborative multi-disciplinary performances combining theatre, video, music, movement and visual arts. In 2006, Loree completed her Masters degree in Arts Education, focusing her studies on the evaluation of community arts projects. Currently in Toronto, she is researching and developing The Junction Storefront Installation/Performance Project. She is the lead installation artist and the youth and evaluation consultant with the Jumblies Theatre, and has a developing consulting practice: Resonance Creative Consulting Partners.
Powpee Lee was born into a farming family in rural Taiwan. After graduating from college in 1991, where he was active in the student movement, Powpee became a community organizer – helping to build alliances among local trade union laborers and undocumented workers.Powpee served a compulsory two-year tour of duty in the Taiwan Army, then went back to his work in the labor movement, where he served as a labor education project organizer for the National Confederation of Trade Unions. In 1999,  Powpee helped establish a community university for radical adult education, Lu-Di Community University. He has served as director of Lu-Di since 2002. Powpee received his Masters degree in psychology in 1995 and is currently a Ph.D. candidate at Fu-Jen Catholic University,Taiwan.
Syed Mizanur Rahman is a youth worker and community theatre organizer from Bangladesh. He describes himself as someone who has come from poverty and, because of this, can relate to development / growth issues with an empathetic heart. For Syed, psychological poverty is a major contributor to financial poverty. While studying economics at Jahangirnagar University in Savar, Bangladesh, Syed developed a deep interest in theatre. Discovering the power of theatre to both entertain and motivate, he began to actively participate in theatre as an actor, director and producer. In addition to staging classics, he produced performances on drugs, tobacco, AIDS, and intolerance. Syed completed a second Masters in Drama (Direction) at Rabindra Bharati University, India and received a Diploma in film direction from the National Institute of Film and Fine Arts in India. Upon his return to Bangladesh, he joined an advertising firm as Executive Creative, and later Directorate of non-formal education for social mobilization. In 1999, Syed along with a grouping of dynamic young people, established the Theatre for Research Education and Empowerment (TREE) aiming to access the potential of theatre to teach and to empower audiences/participants.
Julie Vaudrin-Charette is a Montreal-based practitioner in Theater for Change. Over the last five years, she has led participatory drama and media workshops in Senegal, Peru and Malawi. She is particularly interested in exploring theatre as a language to build empathy and community, especially in communities affected by HIV / AIDS. Julie completed her masters degree in Communication at Universite du Quebec a Montreal. Her thesis focused on the use of clowning for health education. At home in Quebec, she is part of Vichama Collectif, a socially engaged multimedia art group. She is also working in the NGO sector as a communications specialist, integrating storytelling into development education. Julie's areas of interest includes HIV/AIDS prevention and community supprt, intercultural communication and aboriginal issues. On a more personal note, Julie is a proud mother of baby Theo.
Rebecca Widom is a researcher, program evaluator, advocate and activist currently working on the Homelessness Outreach and Prevention Project at the Urban Justice Center in New York. In her work with the homeless, she advocates for improved access to public benefits. An innovator in finding new ways to use research for social change, Rebecca is involved in a number of research projects at the Urban Justice Center. Her research on the United States Department of Agriculture (USDA) Food Stamps Program has drawn attention from policy researchers across the country and has been cited in publications such as The New York Times. Rebecca earned her Masters degree in Sociology at the University of Arizona.
---
The International Class 2005-6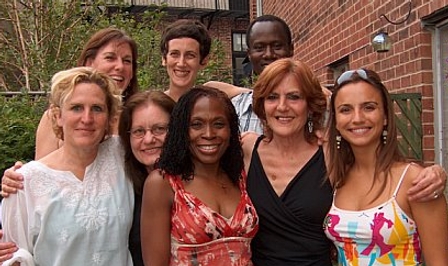 Top Row: Kathleen Stauffer, Charlie Weinberg, Kitche Magak.
Bottom row: Betsi Pendry, Anna Gertruida Pistorius, Joan Mahon-Powell, Lois Holzman, Melina Lucila Baracco
Melina Lucila Baracco is a community psychologist from Rosario (Santa Fe) Argentina. She works at the Centro Unico de Donación, Abación e Implante de Organos (an organ donation center.) She volunteers with the Community Assistance Center at the Universidad Nacional De Rosario and with Volunteers Against AIDS. Melina completed her postgraduate studies in Clinical, Institutional and Community Psychology atUniversidad Nacional De Rosario.
Kitche Magak is a lecturer in Psychology at Maseno University in Kisumu, Kenya and a longtime community organizer and communications consultant in the area of reproductive rights. Kitche has a Masters in Literature from the University of Nairobi and a Diploma in Mass Communications from its School of Journalism. He is a published poet and short-story writer.
Joan Mahon-Powell is an educational consultant with 25 years experience in New York City public schools as a teacher, curriculum writer, staff developer, assistant principal, principal, community school district superintendent and local instructional superintendent.
Betsi Pendry is the founder and director of the Living Together Project in Johannesburg, South Africa, an organization dedicated to helping families and communities overcome the stigma associated with HIV/AIDS. Betsi completed her undergraduate studies in Dance and Psychology at Hampshire College and earned a Masters in Public Health from Columbia University. She is a graduate of the Institute's therapist training program.
Anna Gertruida Pistorius is a licensed clinical and industrial psychologist with the Health Professions Council of South Africa in Pretoria and a senior lecturer in community psychology at the University of Limpopo. Annalie spearheaded the Youth Psychosocial Wellness Project in partnership with the Johannesburg-based Living Together Project.
Kathleen Stauffer is a specialist in early childhood education. She is a pre-school teacher at the Paoli Methodist Nursery School in Paoli, Pennsylvania, helps prepare new teachers as a faculty member at Montgomery County Community College, and is an instructor at Pennsylvania Pathways, a career development program for childcare workers. Kate has a Masters in Education from Cabrini College in Philadelphia.
Charlie Weinberg, originally from the U.K., has worked with young people in Managua, Nicaragua since 2001 as part of Puntos de Encuentro youth development program. Charlie is the script-writing coordinator for organization's original TV "soap opera," Sexto Sentido, which invites exploration of sexuality, family relationships, drug use and violence.
---
The International Class 2004-5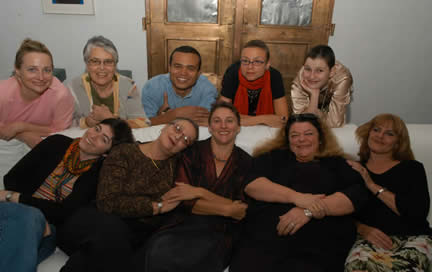 Top Row: Deborah Forhan, Susan Massad, Ruben Reyes Jiron, Vera Erac, Tiffany Ebden
Bottom Row: Bibiana Cologne, Marjory Levitt, Lola Broomberg, Kerstin Gauffin-Holmberg, Lois Holzman