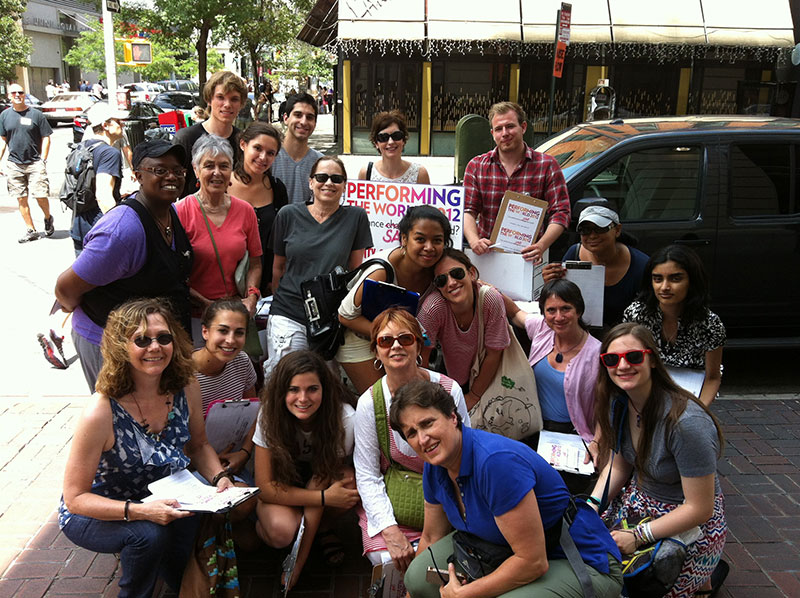 2016 Internships: An Introduction to the Theory and Practice of Social Therapy
For graduate or undergraduate students interested in participating in an internship in New York City
Who We Are
The East Side Institute for Group and Short Term Psychotherapy is an international research and training center for developing and promoting cultural and performatory approaches to psychology, psychotherapy, teaching, learning, and community building. The Institute offers a variety of training programs in social therapeutics, a postmodern methodology that relates to people of all ages as social performers and creators of their lives, of what they, their communities and the world are becoming.
What is Social Therapy?
Social Therapy is a group psychotherapy in which clients work together with therapists to create a therapeutically helpful environment—meaning an environment for social-emotional growth. Created in the 1970s by therapist and philosopher Fred Newman, Social Therapy has been influenced by the sociocultural psychology of Lev Vygotsky and the language philosophy of Ludwig Wittgenstein. It is a collaborative, philosophically oriented, non-medical model approach that is at the leading edge of the postmodern movement in psychology. Social Therapy is currently practiced at the Social Therapy Group (in Manhattan and Brooklyn), seven other Social Therapy centers in the United States, and dozens of community clinics and health care settings nationally and internationally.
The Internship
Interns will be introduced to Social Therapy theory and practice, and to the programs and activities of the Institute. Each intern will meet regularly with a social therapist who will serve as mentor and advisor, and help conceptualize a final project that expresses the intern's learning and contributes to the Institute.
Learning Activities
Attend Institute seminars and events
Attend study groups on the social therapeutic approach
Meet psychologists, therapists, educators and community activists from around the world who attend the Institute's International Class
Participate in community outreach via email, phone and onsite.
Provide administrative support for a variety of projects.
Requirements
All applicants must have an interest in learning new approaches to psychotherapy.
Duration
Dates of internships vary according to student requirements. Some evening and weekend hours will be required.
Applicants should email a cover letter, completed application form and resume (no hard copies, please), indicating their interest in the Institute and in learning Social Therapy to:
Melissa Meyer, Programs Coordinator, East Side Institute: mmeyer@eastsideinstitute.org