The Weekend Intensive
The Clinical Practice of Social Therapy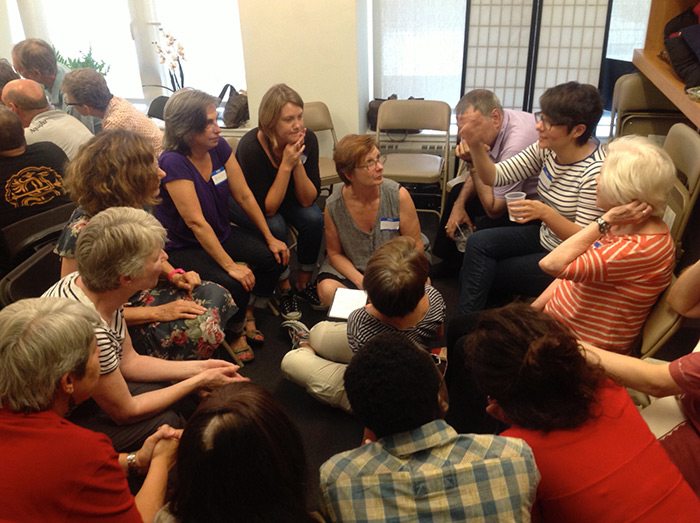 Led by Christine LaCerva and other East Side Institute faculty, our three-day weekend intensives offer a practical/methodological immersion in social therapeutic process for practitioners.
A Psychology of Becoming
Fee per weekend: $375.
Why should building groups help people suffering from emotional pain? Explore a methodology and approach that helps groups transform how they feel. Advance your capacity to support the creative power of the groups you lead.
Program includes:
Presentation on the core issues of social therapeutic practice
Observation of social therapy groups and post-observation discussion
Role-play and improvisational exercises
Supervision
Christine LaCerva, M.A., is director of the Social Therapy Group in Manhattan and Brooklyn, where she has a large group practice. Trained by Social Therapy founder, Fred Newman, Christine helps clients young and old and from diverse backgrounds build environments for emotional development. She has pioneered a multi-family group approach to helping children and adolescents diagnosed on the Autism Spectrum. Christine is also director of clinical training at the East Side Institute, and in that capacity introduces practitioners in the US and internationally to the social therapeutic approach. She completed her graduate studies at Teachers College, Columbia University in community psychology and special education (including education of the deaf) and has a performance background in dance and theater.
Check events page for fall and spring offerings.
Want to read something first? We Recommend:
Psychological Investigations: A Clinician's Guide to Social Therapy
Edited by Lois Holzman and Rafael Mendez
The first comprehensive treatment of social therapeutic practice, Psychological Investigations moves social therapy to the foreground as a qualitative new way of doing therapy. Featuring over 70 dialogues between Fred Newman—the creator of social therapeutic group process—and therapists-in-training, this book explores the nature of the social therapeutic group process, the social therapeutic relationship, and applications to health care, alternative medicine, education and youth development. (Brunner-Routledge, 2003) $29.95 BUY NOW
Let's Develop A Guide to Continuous Personal Growth
by Fred Newman and Phyllis Goldberg
In a culture of "getting," the little book that keeps on giving is back. The 2010 edition of Fred Newman's LET'S DEVELOP has a forward by Patch Adams (the peripatetic, clowning MD) and new introduction by Lois Holzman.Based on 25 years of clinical practice and his discovery that people can reinitiate development at any stage in life, Newman urges his readers to eschew insights, explanations or getting to the "bottom" of deep-rooted emotional problems and seek their cure in development. (Castillo International, 1994) $18.95 BUY NOW