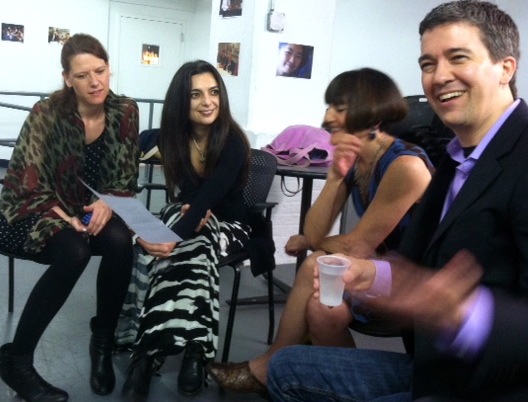 The East Side Institute for Group and Short Term Psychotherapy is an international educational, training and research center for developing and promoting alternative and radically humanistic approaches in psychology, therapy, education and community building.
Chief among these approaches (social constructionism, cultural historical activity theory, narrative therapies)  is social therapeutics, an approach to human development and social change that relates to people of all ages and life circumstances as social performers and creators of their lives. It is practiced globally as both a group-oriented, development-focused psychotherapy (social therapy) and a methodology with broad application in educational, cultural, health and community settings.
Founded in 1985 by social therapy's creator Fred Newman and developmental psychologist and current director Lois Holzman, the Institute functions as a unique community think tank, building bridges between university- based and community-based practices and bringing the traditions and innovations of each to the other. Training programs combine innovative theories with real-world practical applications and are open to professionals and paraprofessionals regardless of discipline.
Headquartered in New York City, the East Side Institute is a vibrant learning community with a conversational model of learning and teaching. Through both online and NYC-based courses, study and training programs, international events and scholarly writings, the Institute has introduced thousands of educators, mental health and medical workers, scholars and community organizers to the most successful and cutting-edge approaches to tap, re-ignite and support the kind of human creativity, performance and developmental play so desperately needed if people are to transform the world.
Peaceful Cultural Change
Founders Fred Newman and Lois Holzman
Faculty
ESIcommunitynews.org
loisholzman.org
communitytherapist.org
---
A Brief History of the East Side Institute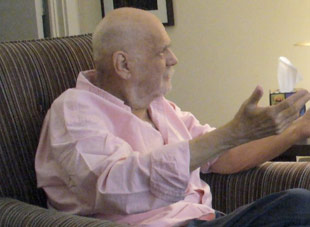 The Institute's roots go back more than thirty years, to the mass social-cultural-political upheavals of the 1960s and their challenges to the norms of post-World War II America. Millions looked at the inequality and injustice of the institutions that shaped people's lives, from the government, the military and the law to the schools, the hospitals and the clinics. They didn't like what they saw, and protested. Tens of thousands went further, creating alternatives as part of their protest — alternative life styles, learning centers, health clinics, cultural centers, political organizations, and more. They built without months of strategic planning, mission statements, business plans, an organizational chart, or financial backers. We were among them.
At first, we were only a handful, among us Fred Newman, a philosophy professor at City College who left academia and organized a countercultural/leftist collective in the Bronx. He began to practice a radical therapy (one of hundreds of radical therapies at the time) and trained his fellow community activists in his approach, which became known as social therapy. Soon they got involved in welfare organizing and other activism for the empowerment of African American and poor people.
In the mid '70s, the combination of social therapy's radical humanism (it was anti-psychiatry and non-medical, and located emotional problems in the world and not in people's heads) and the grassroots welfare organizing began to attract a new crop of people to this tiny movement — including social work student Bette Braun, social worker Debra Pearl, sociology graduate student Phyllis Goldberg, psychology graduate student Jan Wootten, psychiatric researcher Murray Dabby and me. (I had just completed my Ph.D. research in developmental psychology at Columbia University and was working at my first "real" job as a research associate in a surprisingly progressive psychology lab at the very prestigious Rockefeller University.)
In 1979 we formed the New York Institute for Social Therapy and Research on the Upper West Side, and built up a therapy and educational clientele — when we weren't at our regular jobs. In the '80s we opened social therapy centers in lower Manhattan, the Bronx and Harlem. We created a cultural center, the antecedent of what is now the Castillo Theatre of the All Stars Project, Inc. From 1985 to 1997 we ran a small, independent experimental elementary school (the Barbara Taylor School) as a way to give poor and working class children the best, most innovative educational experience we knew of. In 1985 we received a provisional charter from the New York State Board of Regents to offer a certificate for postgraduate psychotherapy training; in that same year the East Side Institute was born as a non-profit organization.
Committed to independence from government and university funding, we were a poor organization with a volunteer staff. (We still are.) We used our independence to try things that would be impossible in a traditionally funded institution. We taught classes with no prerequisites and no requirements. We trained professionals and non-professionals to be social therapists. We worked very hard to bring people together across the boundaries of identity and the community/professional divide. We went door to door in Manhattan, Brooklyn and Queens, to introduce people to our work and ask them to support it financially. We set up tables at street fairs and citywide events like the Gay Pride and Puerto Rican Day Parades and talked to the crowd, gave them literature and invited them to events. We made presentations at academic conferences to share our fledgling discoveries about social therapy and our new understanding of the importance of play and performance for reinitiating learning and social-emotional development in children and adults. We held public forums featuring activists and scholars talking with community audiences about psychology, education, culture, health and politics.
By the '90s, the years of varied grassroots organizing were beginning to pay off. Hundreds of the people we met had been heartened and inspired by our efforts. Many joined us for training, others for collaboration, still others for moral support. Our volunteer staff grew to several dozen. (Others were put off by our work. While it had been part of a mass movement when we began, in the now-conservative climate it was seen as unorthodox and weird.)
Embracing our controversiality, we wrote our first book ( Lev Vygotsky: Revolutionary Scientist ) at the invitation of prominent critical psychologists who had become our close colleagues. (The book was published in 1993 by Routledge, a leading academic publisher which has published four subsequent books of ours.) In 1997 we held our first international conference ("Unscientific Psychology"), featuring the best-known postmodern and critical thinkers in psychotherapy and psychology. Our international travel intensified, as scholars and practitioners became more familiar with our work and wanted to learn more and to show us what they were doing in their countries.
In 2000 we looked around and saw hundreds of friends — students, graduates, clients in social therapy with someone we had trained, teachers, doctors, nurses, youth workers and others — using our approach in varying ways. We saw partners in development. We invited them to help make us bigger. In the eleven years since then, we've launched an international educational and training program and begun several collaborations with practitioners and social entrepreneurs from some of the poorest countries in Africa and Latin America. We've organized and hosted six biennial Performing the World international gatherings, in addition to continuing our local and national educational, research and training work. And 30 years later (for better or worse), we now have a business plan.
– Essay by Lois Holzman
---
Our Lineage
Over the years we have drawn inspiration from a variety of intellectual traditions, but it is the conceptual frameworks of Karl Marx, Lev Vygotsky and Ludwig Wittgenstein that have influenced us the most. The writings of these three seminal thinkers have helped us in understanding the subjective constraints on—and potentials for—ordinary people to effect radical social change.
It is as methodologist (more than as political economist) that Karl Marx has taught us so much. Especially in his early writings (for example, Economic and Philosophical Manuscripts and The German Ideology ), Marx put forth a radically social humanism: human beings are first and foremost social beings. He posited that both human activity and human mind are social, not just in their origins but in their content. For Marx, the transformation of the world and of ourselves as human beings is one and the same task, and it is this capacity for "revolutionary activity" that makes individual and species development possible.
The Soviet psychologist Lev Vygotsky brought Marx's sociological insights to bear on the practical question of how human beings learn and develop. His departure from traditional psychology's understanding of development — that it is not an individual accomplishment but a social-cultural activity — helped us to see more clearly how our therapeutic and educational practices worked.   His writings on cognitive development in early childhood, we discovered, have great relevance to emotional growth at all ages. We see Vygotsky as a forerunner to a new psychology of becoming, in which people experience the social nature of their existence and the power of collective creative activity in the process of making new tools for growth.
Ludwig Wittgenstein, widely considered the most original and enigmatic philosopher of the 20th century, challenged the foundations of philosophy, psychology and linguistics. His was a radically new method of doing philosophy—without foundations, theses, premises, generalizations or abstractions. Especially important for the Institute's social-cultural approach to emotional life is how he exposed the "pathology" embedded in language and in accepted conceptions of language, thought and emotions. Wittgenstein said that the belief in deeper meanings and internal mental processes "holds us captive." His method—a kind of therapy for philosophers—helped us see social therapy as a method to help ordinary people break free from "versions of philosophical pathologies that permeate everyday life" so as to be makers of meaning and not simply users of language.